Looking for professional oven cleaning in Maidstone - Kent? We are professional oven cleaners within the Maidstone and surrounding areas of Kent. We are a fully insured and reliable organisation, offering various cleaning services at the lowest amount possible. Why don't you contact us today for a quotation?

Oven Cleaning in Maidstone (Kent)
We provide the best oven cleaning service in Maidstone and surrounding areas at the lowest price possible. Our services come second to none, we are prompt and offer a high quality oven cleaning service.
Experts in the industry
We are experts in the industry with the latest cleaning equipment, our technicians are extensively trained and experienced. We always listen to our customers, customer satisfaction is guaranteed.
Our goal is to provide the highest level of service, quality of clean and value to each and every customer.
For a free, no obligation quotation, why not give Clean Professionals Oven Cleaning Maidstone -Kent a call today.
Best Service in Maidstone
LOWEST PRICES
100% SATISFACTION GUARANTEE
FREE, NO OBLIGATIONS QUOTATIONS
QUALIFIED & EXPERIENCED STAFF
INSURED
FRIENDLY CLEANING TECHNICIANS
RELIABLE SERVICE
AVAILABLE 7 DAYS A WEEK
STATE OF THE ART EQUIPMENT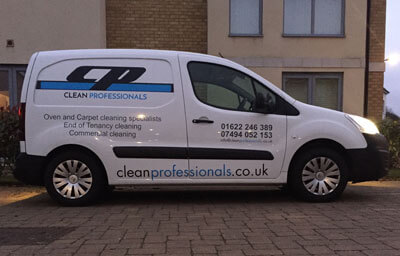 Experts in oven cleaning in Maidstone and surrounding areas. Our prices are probably the cheapest in the area. Why not contact us today.
GET THE PROFESSIONAL CLEAN YOU DESERVE
Free Quotes, Call Us To Discuss Your Professional Clean
Using a strong chemicaled dip tank, all shelving is removed and placed inside whilst the remainder of the oven is cleaned. This is so food residue loosens making it easier to wipe away. Our thick foaming solutions are used to spray the interior of the oven, designed to latch on to grease and oils on the walls. With our specially designed handheld scraper, we are able to easily remove all stubborn dirt even if it has remained for a long duration of time.